¡Olé!
I have just realised that February is coming very soon and that means that the Sevillan Party I will be attending as well. And I don't have a dress! Or a pattern for that matter!
But the crisis is avoided: I have the fabric.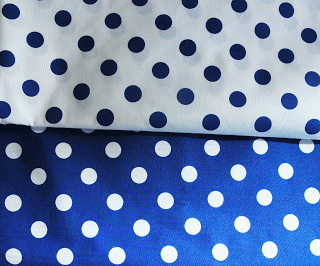 This week-end, while searching the internet for inspiration, I found Claudia's blog
Entre cirios y volantes
and I went crazy looking at all the amazing pictures she posted. Her blog is dedicated to the Flamenco world and particularly about fashion shows, advices, inspiration, makeup and traditions.
I sure found what I was looking for!
I thought I would show you my favourite looks and then explain how I am going to make the dress.
Voy a enseñaros mis estilos favoritos y luego explicar como voy a hacer el traje.
2.Cañavate, coleción What Lola wants, Simof 2011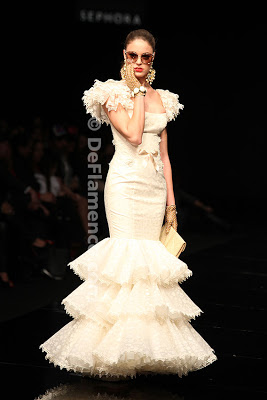 1.Cañavate, coleción What Lola wants, Simof 2011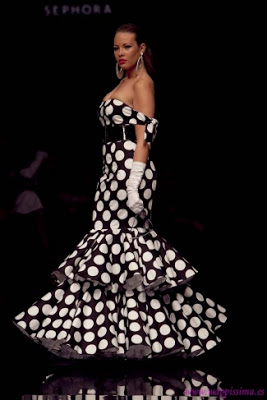 4.Cañavate, coleción What Lola wants, Simof 2011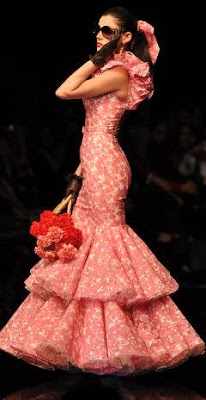 3.Cañavate, coleción What Lola wants, Simof 2011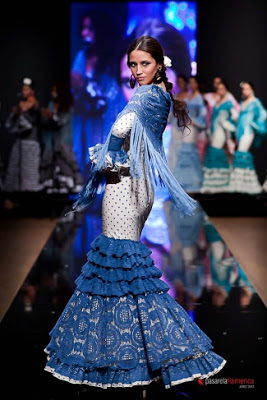 8.Flamenka, Simof 2012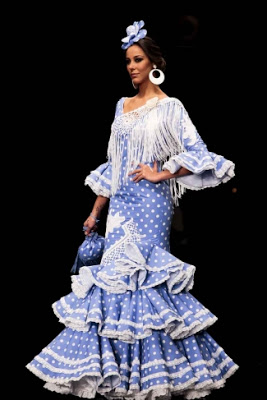 7.Carmen Latorre, coleción « Entre naranjos, Simof 2012
As I said on the fabric post, the main fabric will be the blue one. I think it will look better with my fair skin.
I will base the bodice and skirt-just-above-the-knee on the Butterick 6582 pattern I have used to make my last dress, the burgundy velvet one as the fit was spot on. I just have to make some alterations to account for above-the-elbow sleeves. There wille be two ruffles on the sleeves, the top one in blue and the bottom one in white.
The skirt/underskirt will be white and there will be three ruffles attached to it (the first one in blue, the other two in white). I just hope I have enough fabric: 3 meters in 1,5m width in each colour (what the girl in the shop recommended).
Here is a diagram to see all the different pieces (my bodice will be different, this one is with princess seams instead of darts):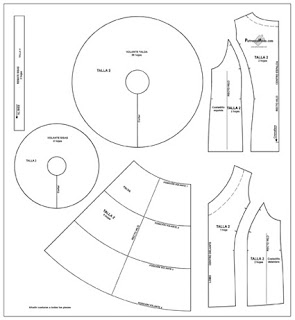 Now I have to find time during the week-ends to accomplish this challenge and I have until the end of February. I want to document the pattern-making and sewing process so I will be able to share my progress with you. And if you have any knowledge or questions on Flamenco dresses, please let me know.
Thanks and Olé!