Today we'll see how to adjust sleeve width.
I received some emails recently about how to increase the width of the
Xerea dress
sleeves and I thought it would be nice to prepare a tutorial. This is something you can apply to every "one piece" sleeves.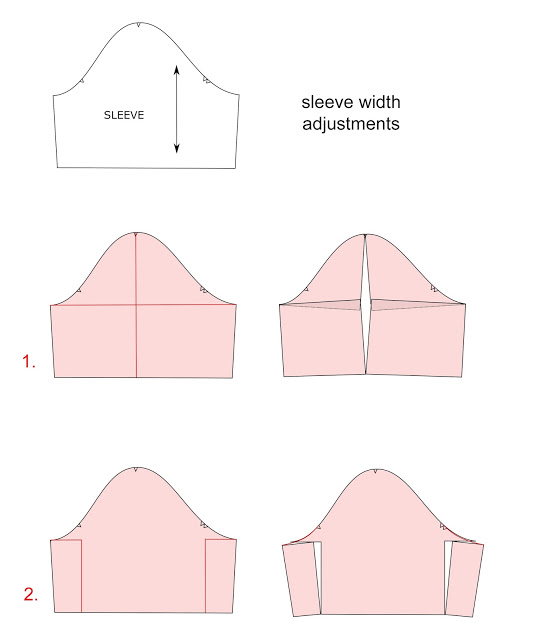 Method 1.
Trace two perpendicular lines accross the sleeve: one from armhole bas to armhole base and the other from the sleeve cap to the hem (in red here).
Cut along these lines and spread the sides apart, making sure the bases are still touching at the extremities. Add the cm you need in the center and tape together your new sleeve piece. The good thing about this method is that the sleeve armhole is not modified.
Method 2.
On one side of the sleeve, trace a line perpendicular to the grainline starting from the armhole base and about 4-5 cm long (about 2″). From this point, draw a perpendicular line to the hem. Repeat on the other side.
Cut along the lines you just traced and slash the piece away from the sleeve the extra cm you need. Tape together and redraw the sleeve curve if needed. With this method, you'll add width to the sleeve as well as to the sleeve armhole. You'll need to ease the sleeve more.I hope that was helpful. Let me know if you have any questions.
PS: by the way, the sleeve width on the larger sizes of the Xerea dress has been increased for the PDF pattern.