About two weeks ago, Deer and Doe released its new Fall collection and was very lucky to review one the new patterns, the maternity Givre dress.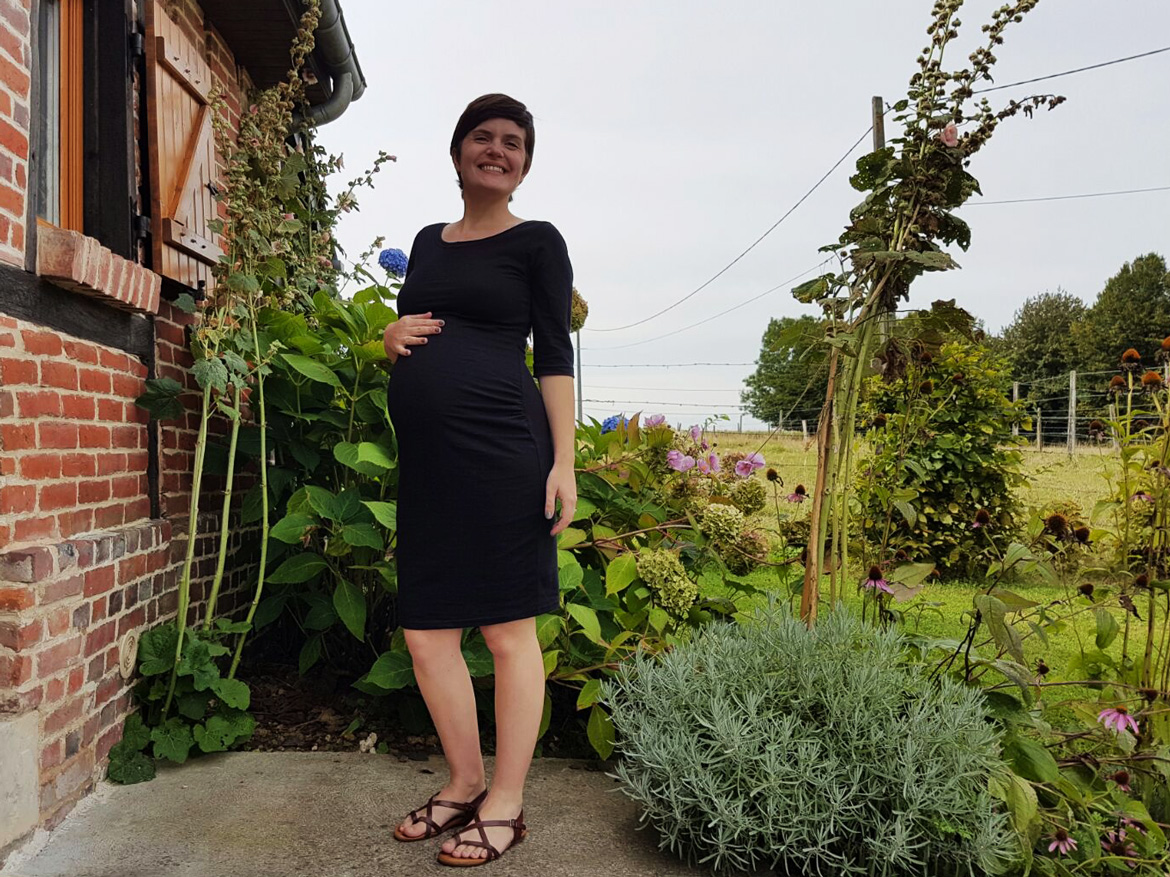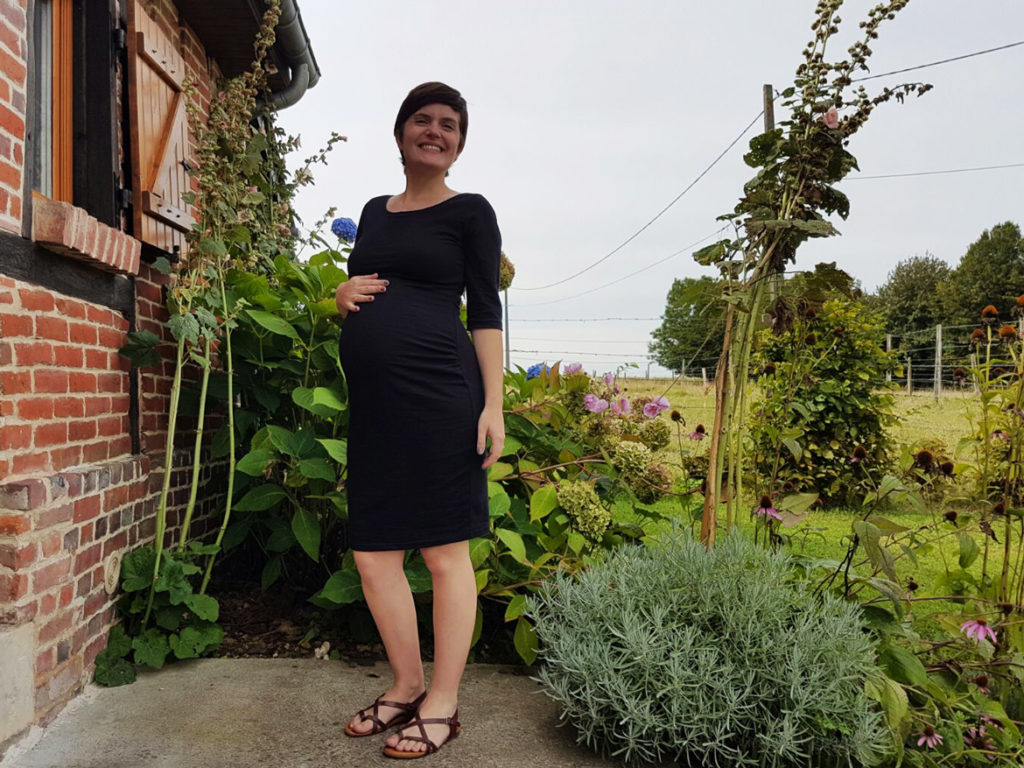 First, I'd like to thank Éléonore and Camille for asking me to review their pattern, that was very thoughtful of them. If you could think there is a cold competition between pattern designers, I'm sorry to disappoint you: what I've witness is respect and admiration for each others' works. So thank you girls and congratulation on a beautiful collection!
But now about the dress I made: the Givre dress pattern is a knit dress pattern with many versions. You can make it as a dress, a t-shirt, with long sleeves or sleeveless, and as a normal size or maternity dress. Obviously, that's the version I'm reviewing!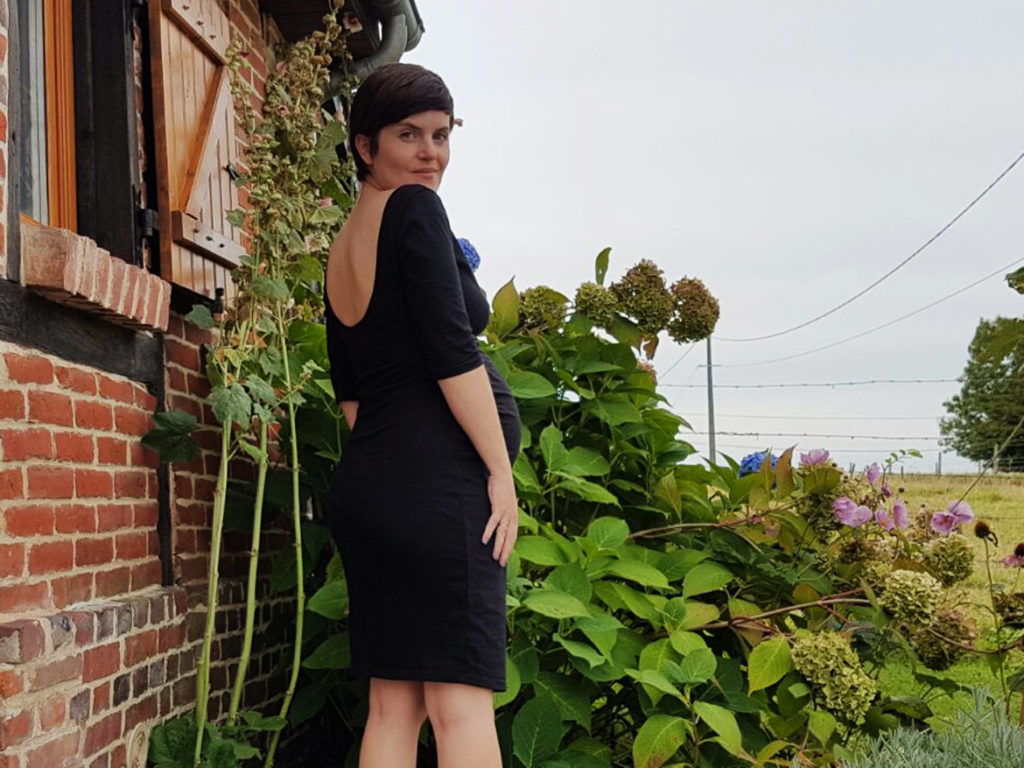 It's exactly the kind of dresses I wanted to wear during my pregnancy. I feel put together and comfortable at the same time (just need to make sure that you have the appropriate underwear as the dress is quite bodycon!). The best detail for me was the possibility to choose between to special sizing: a 3-6 months or 6-9 months belly! I am still wearing my Aldaia dresses, with the waistline gathered above the belly, they fit but it's very clear they are not made for pregnancy so it's a great change to have the perfect amount of ease and gathers like this pattern. As size goes, I chose a 38 based on my new bust measurements. It's a good thing I did as my fabric doesn't have the stretch amount required.
I had this black bio cotton jersey from Les trouvailles d'Amandine in my stash, it only has about 25% stretch but that was the only black jersey I had and I wanted this dress to be black. I made a few modifications to the pattern: I combined view A and B to add sleeves to the seamless version and scooped the back neckline and redrew the neckline band to match.
It sews very easily and fast. Instructions for the gathers are great and everything went together nicely! I wanted to make more but as I have only over a month left, I might wait and make the "normal" version instead 😉 But if you're pregnant and looking for a nice dress pattern, I highly recommend the Givre dress.