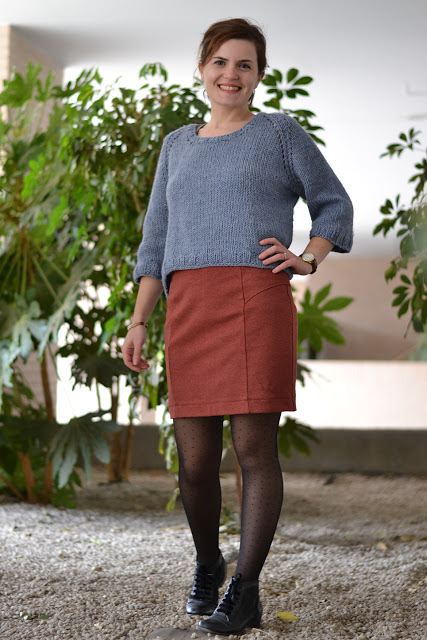 This is the
first Brume
skirt I'm making, but it sure ain't the last!
I remember when Eleonore released her jersey collection for Deer & Doe and I loved both patterns, the Brume skirt and the Ondée sweater, so much that I ordered them right away.
But it took me some time to make them… At the time I didn't have my serger yet and I didn't really feel like sewing them on my sewing machine. Now that my serger and I are close friends, it feels like every project I make is in knits 😉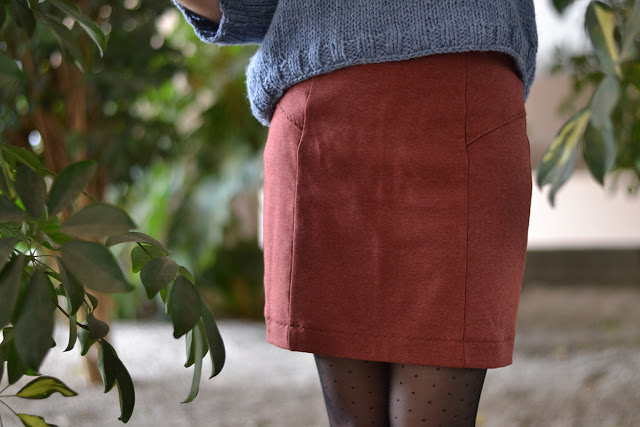 The pattern is quite easy to make, you just need to be precise. It took me 1 hour from cutting the fabric to wearing the skirt, this is the fastest I have ever made a garment! I can predict at least a couple more of this pretty skirt…
I want to make the knee length version in black, it looks so elegant and effortlessly chic.The jersey I used is quite heavy, it's sweater fleece I bought last year in
Bennytex
, Paris. The good thing is underwear lines are not really an issue, but seams are a little bit bulky. The only problem I have is linked to the fabric: it has the amount of stretch needed but not much recovery and the waistband stretched out after the first wear. I might add an elastic as adviced in the instructions.
This really is a great knit pattern: easy and fast to make, great style and basic enough to wear with everything. Now I need to make the Ondée sweater to complete the look 😉
I'm also wearing my 2nd
Il Grande Favorito sweater
by Isabel Kramer, knitted last summer and worn so much this winter. Changes made: shorten length on body and sleeves. Wool: Cascade Yarns Eco+ in West Point Blue Heather bought at Lil'Weasel.
I love this pattern, I have 3 versions of this sweater and I'm sure there will be many more!