I'm so happy to present this tutorial by Betsy from SBCC patterns (Skinny Bitch Curvy Chick, love the name!), specialized in sewing patterns for petite women.
And you know what? I am a petite woman! 5 ft 1 (1, 53 m).
Betsy has made the Malvarosa dress for herself and proposed to share some tips on Petites alterations.
So please welcome Betsy who's going to show you how to alter very easily the Malvarosa pattern so you can rock the low waist trend this summer! See for yourself her beautiful version, very Gatsby and Roaring 20's fabulosity if you ask me!

Hi, I'm Betsy from Skinny Bitch Curvy Chick Patterns. I am happy to meet and work with Pauline Alice. Sewing Indie month has brought us together and I am thrilled to have found her patterns that are classic, feminine- oh yeah, and a breeze to sew together!
I make petite patterns, for women 5'4" and under. Believe it or not, 70% of the female population is actually petite in torso length, leg length, or both. It is easy to make petite pattern alterations and Pauline Alice was a good sport about letting me make a petite version of her Malvarosa Dress.
I am always drawn to drop-waist dresses. Maybe I was a tall, 1920's Flapper in a previous life, sporting the chic elongated looks that hit gracefully at the hip level. Well, in this lifetime, Flapper I am not with my 5 ft 1″/1.55m petite stature. Waistlines that hit below the natural waist tend to be hard to pull of for petites- it takes the right proportions.
The Malvarosa dress had me hook, line, and sinker. I knew I had to make it, as it is a silhouette that I gravitate towards lately and also an easy style to modify for petites. With the right heels I could pull it off as is, but I like my flats and needed to make some petite modifications.
I always start out with a muslin to get a baseline idea of what changes I may need to make. I made up the first version as per Pauline's original dress. It turned out really cute, but a touch too long for me. So then I made the second muslin with the following alterations: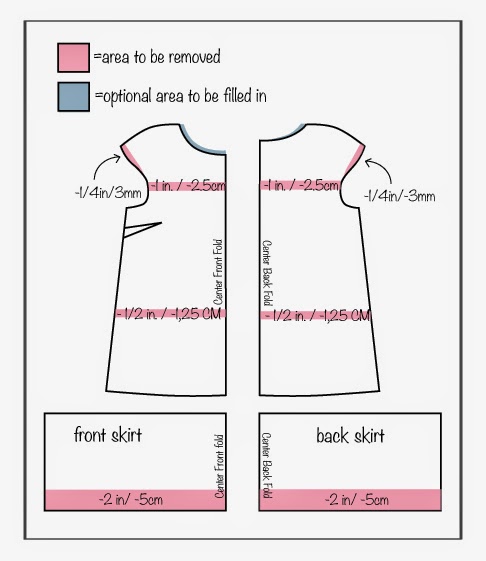 I shortened the bottom skirt 3″/7,5cm. Since drop waists elongate the torso my philosophy is that it is best for petites to keep the hem above the knee so short legs don't look shorter.
(I went a little too short on the 2nd muslin and it was a full on show when I bent over- whoa!). Revised the skirt again and only reduced 2"/5cm in length which was a bit more modest.
Then I reduced the bodice length 1″/2.5 cm at the armhole, both front and back to bring the armhole up.
I shortened the midsection of the bodice 1/2″/1,25 cm.
The sleeves were a touch too long for my narrow shoulders so I shaved off 1/4″/3mm.
Now this one is just personal preference, but I raised the neckline 1/4″/3mm in the front and reduced the total neck width 1/2″/1,25cm. For me this kept the proportions of the Malvarosa same as the original, but just a bit smaller.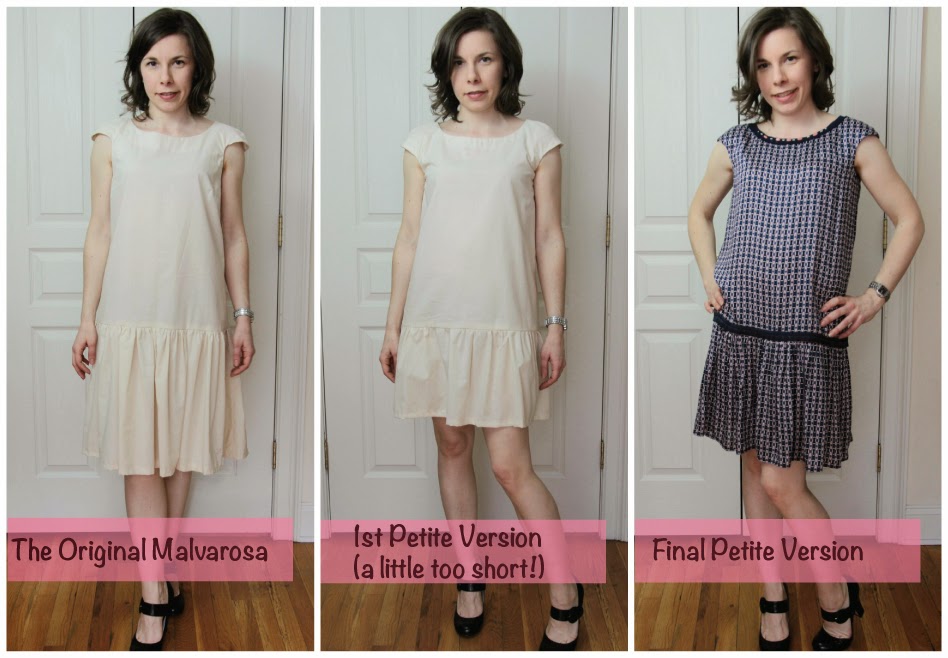 Alright, enough with the muslins! I cut into a printed silk that I picked up in Paris and have been saving for the perfect project, such as this.  The Malvarosa dress is a great style for trim and embellishment, so I did a little beading and lace at the neck and lace at the waist seam. Voila! I have a new summer dress that I can't wait to wear!
Regardless of your height this is an easy to sew summer dress that you can whip up in no time! If you are a taller gal and worried that the regular length will be short, you can use the same modifications as illustrated, just in reverse by adding instead of reducing. 
………
Thanks so much for this tutorial Betsy! You look absolutely gorgeous in your Malvarosa dress (definitely going for that flapper style!) and you've given us great advices on how to alter a simple pattern for Petites.