Between the holidays coming very soon now and the end of wedding season (which will come back soon enough), I wanted to make a new dress. A dress I could wear everyday and for parties.
And this dress, you've guessed, is the new pattern: the SEDA dress !!!
During the summer, I told Anne, my intern, about such a dress: off-the-shoulder neckline with a silhouette very much inspired by the 50's. The first thing she told me was "Ok, that nice, but how can I wear a bra with such a dress?" Good point Anne! Being a very small B cup myself, I hadn't thought about more "gifted" women 😉
And that how the Seda dress pattern was born, view A… and B!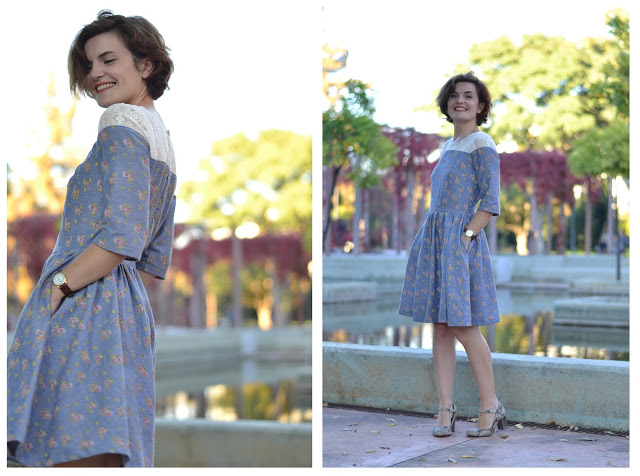 View B: chambray from Henry&Henriette, lace from Cousette
View A has that deep off-the-shoulder neckline, to show off the shoulders with just a hint of sexy… The short sleeves stay put thanks to an elastic and the bodice and hip yoke are lined for comfort. The front and back darts on the bodice and yoke accentuate the waistline and the skirt, fully gathered at the hip, create a silhouette worthy of an Hitchcock heroine.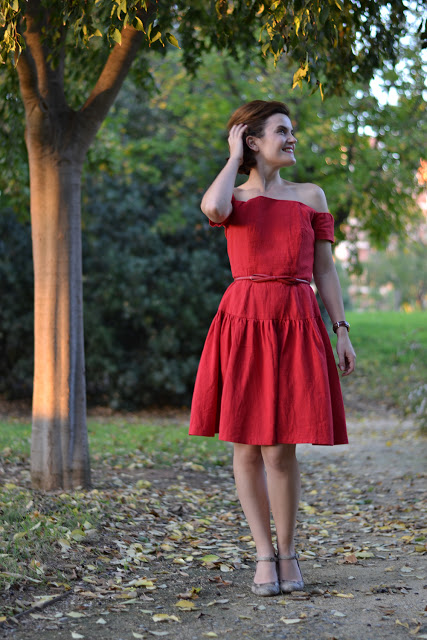 Easier to wear everyday, view B starts with the ame bodice but with the addition of a shoulder yoke. You can play with contrasting fabric or color, transparency with lace… The 3/4 sleeves can easily be replaced by the short ones of view A and vice-versa. And no party dress is complete without a full skirt… with pockets of course!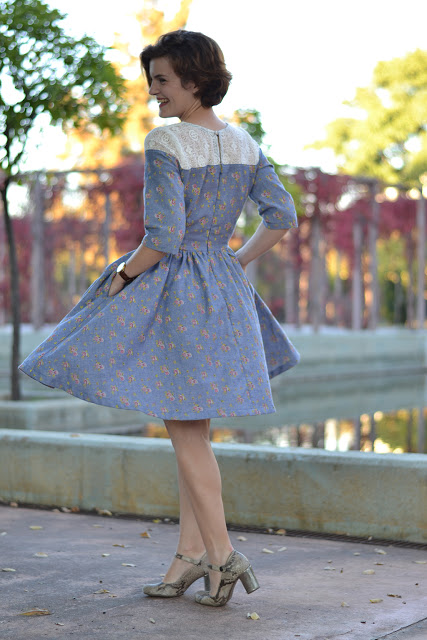 Both views are closed with an invisible zipper in the back, and for view B, a small button or an hook and eye set close the shoulder yoke.
The Seda dress can be made in lots of different fabrics: here in linen and chambray, in cotton, light wool or flannel for winter, velvet, raw silk, lace…I hope you'll like the Seda dress pattern, I'll be back soon with some tutorials. If you have any questions, feel free to ask.