First of all, I want to thank you all for the warm welcome you gave to the
Port trousers & shorts pattern
! I hope to see lots of them stitched up very soon 😉
And because it's always easier to get inspiration for a project when you've seen a few versions made in different fabrics and worn by different people, let's review some of the testers' Port trousers.
As you can see, denim has been a favourite amongs the testers. You can play with contrasting topstitching to give your Port trousers a jeans style or keep it casual. Just remember than denim has a tendency to stretch when worn (going down a size might be a good idea. My shorts version is perfect on the first day but a little too big on the following one for example).

If you want a more dressed-up version, you can use gabardine, cotton twill or chambray like these testers. I think the Port trousers are really easy to wear (and sew by the way!) and it's the kind of garments you can wear from day to night depending on how you accesorize.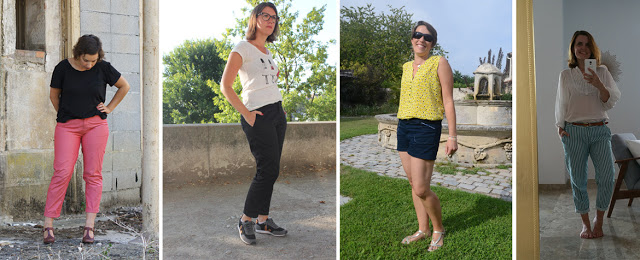 I hope all these beautiful Port trousers will give you some inspiration. If you want more, check out the
Port trousers & shorts board
on Pinterest.
Which version do you like best? And what about fabric choice? Let me know how your Port trousers are going to look like…