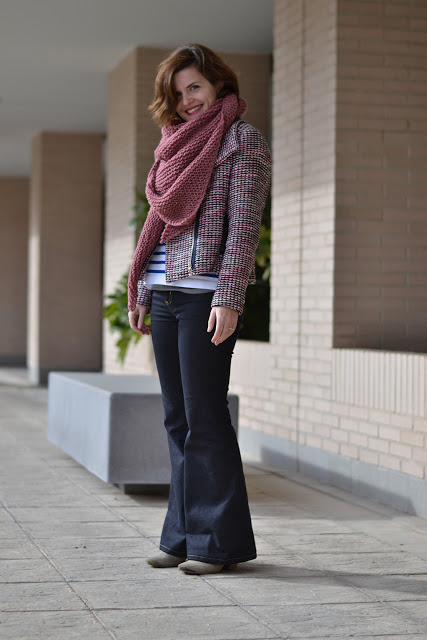 I've made jeans! Like real jeans! I'm very excited about that as buying jeans has always been so frustating for me. I own only 2 pairs of jeans, one skinny and one boyfriend (very loose!). The issue for me when buying jeans is the following: I'm short, only 1m55 (5 ft 1) so I always have to cut about 25 – 30 cm (10″ or 11″) to the hem, which change completely the shape of the jeans. Also I like high rise (mainly at the back) and most of the jeans available are really low rise – which makes it difficult to bent without showing my underwear – or worse…
And finally, I'm not fan of the skinny shape. And this is the only shape I find at the stores.
So when I saw the
Birkin Flares
by Baste & Gather, I was delighted and so excited to make them.About the pattern: It's great! It has all the details of a store bought jeans, with a nice fit (more on that later) and the instructions are really good and easy to follow.
So the fit… It would be great if I had chosen the right size for me. Next time I'll go up a size. I don't think they run small, I think I made a mistake when choosing the size. The legs are a bit too tight for me (you can see the crotch lines) but I could wear them like that. The problem is with the waistband. I can wear the jeans only when standing up 😉 If i sit or bend down a little bit, the waistband cuts into my stomach.
I'll call them my practice jeans!
The denim I used is really nice, it has 2% elasthan which makes it really comfortable. I bought it online at the Sweet Mercerie. As I didn't find any rivets locally, I didn't add them. That would be a nice detail but I don't really feel like paying the extra cost of shipping them here.I hope to show you the second version very soon…