Let's see a second way to hack the Onil blouse pattern. This is part 2 of a 4 parts modifications series.
Note: if you are going to made some modifications to your pattern, it's easier to do without seam allowances. The A4 and A0 pattern files have a specific "cutting line" layer for each size, with no seam allowances. Then add your 1,5 cm or 5/8″ seam allowances to the finished and modified pattern pieces.
ONIL HACK #2: BABYDOLL DRESS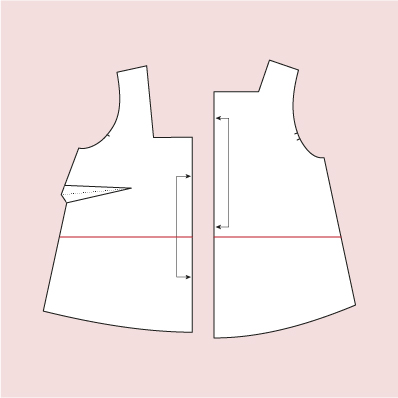 1.This one is pretty straight-forward: we are just going to trace a line on the front and back pieces where we want the bodice to end. Make sure the line is perpendicular to the grainline.
2. Cut 2 rectangles  twice the width of the front/back pieces and desired length. Sew the sides of the rectangles, gather the top edge and attach it to the bodice. You can play with the length to make it short or midi, or add a second tier for a full volume dress.
YOU DON'T HAVE THE ONIL BLOUSE PATTERN? GET IT FOR FREE HERE!